I am very proud to report that our little business raised a big bunch of funds to assist with Bushfire Relief.
We started a crowfunding campaign on January 15th with the support of our friends at Pozible (who waived 100% of their fees)
We donated our A2 size Melbourne Map and a series of gorgeous wildlife illustrations by the talented Lewis Brownlie – a full list of all the businesses that donated their products and services are listed below.
Here's a roundup of how the campaign went and donations made on your behalf.
FINAL UPDATE ON THE "ART FOR BUSHFIRE RELIEF" CAMPAIGN
Whilst the enormous impact of the recent bushfires moves off our news headlines, the struggles that our fellow Australians and Wildlife are experiencing are still present and real.
We are grateful for all the support of our Art for Bushfire Relief campaign in an effort to help in some way.
February was a busy month for us, working hard behind the scenes to produce and deliver all the rewards that were ordered.
We've received some wonderful feedback from our supporters and we're so pleased you are enjoying The Melbourne Map and beautiful Wildlife prints.
TALLY FOR FUNDS DONATED TO WILDLIFE VICTORIA & VICTORIAN BUSHFIRE APPEAL
| | |
| --- | --- |
| FINAL TALLY DETAILS |     AMOUNT |
| | |
| Total pledged via Pozible Crowdfunding |  $ 18,295.00 |
| Shipping received |  $      403.00 |
| Additional orders after the campaign |  $      610.00 |
| Total Received |  $ 19,308.00 |
| Less | |
| Pledge credit card payments declined |  $      670.00 |
| GST paid to the ATO |  $   1,755.27 |
| Credit card charges |  $      362.29 |
| Postage charges |  $      410.00 |
| Framing raw materials only |  $   2,350.00 |
| Total expenses |  $   5,547.56 |
| | |
| | |
| Total to donate |  $ 13,760.44 |
| Wildlife Victoria |  $   6,880.22 |
| The Victorian Bushfire appeal |  $   6,880.22 |
Below are the receipts for funds that have now been donated.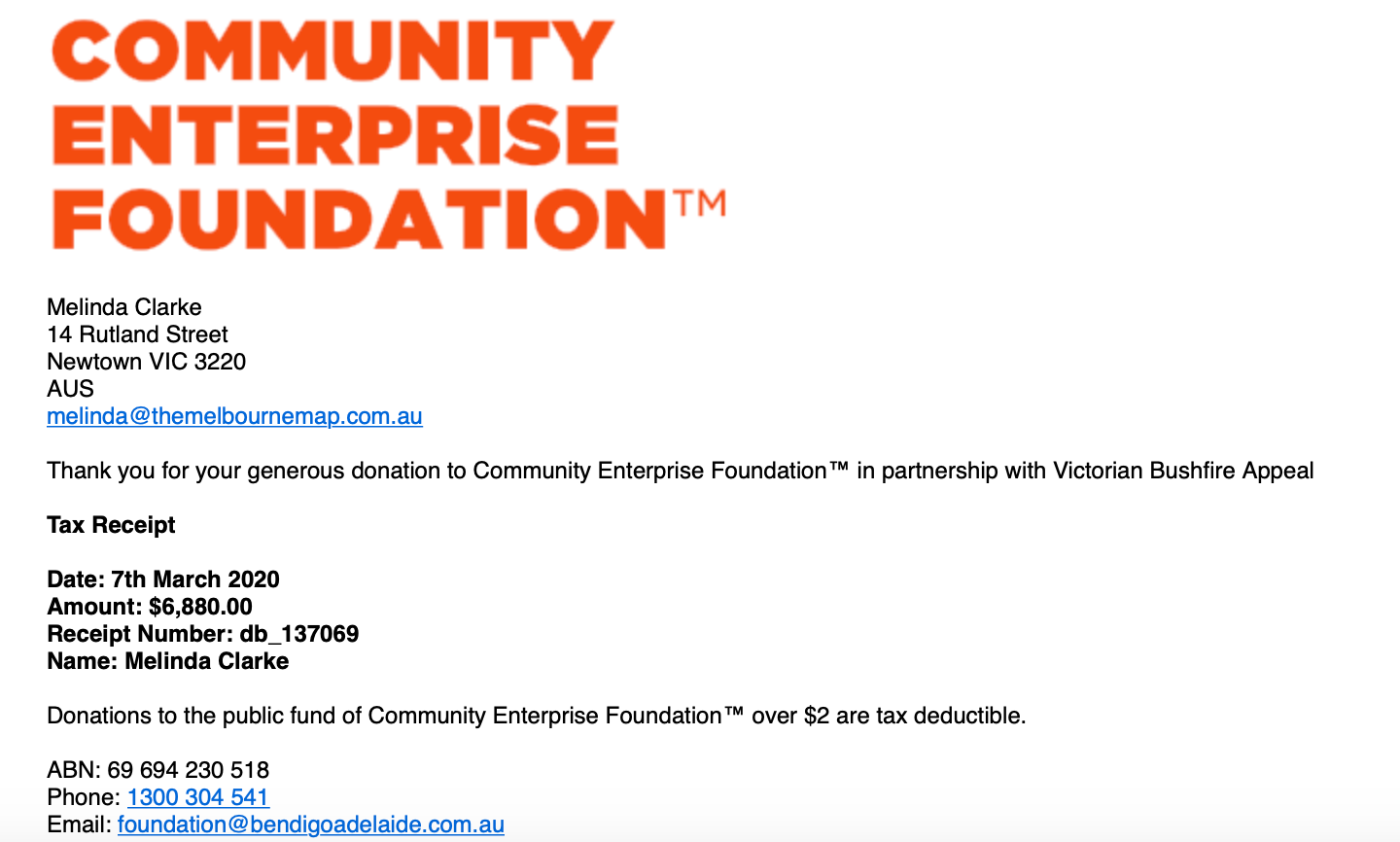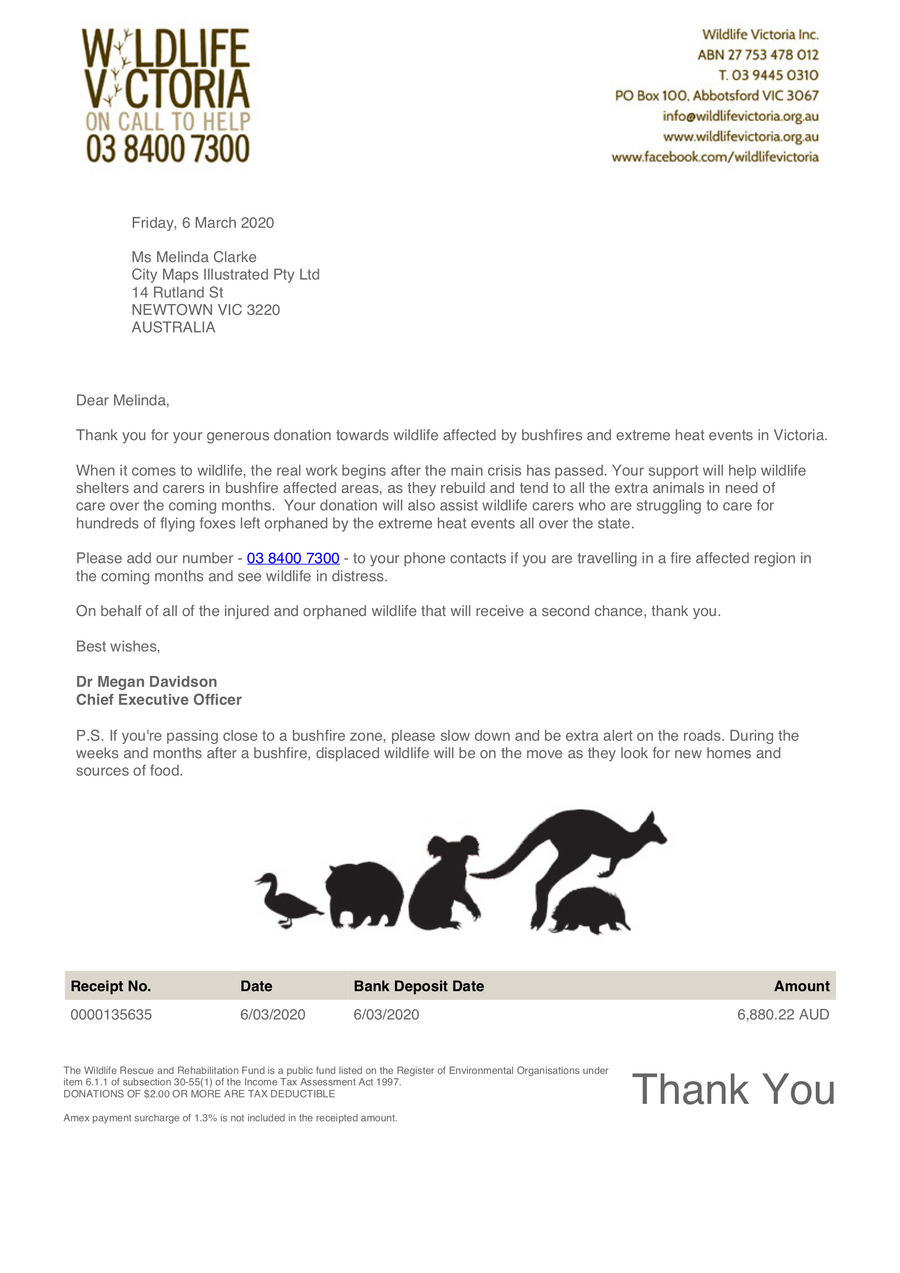 The following people and organisations donated their products, time, services and artwork.
The Melbourne Map – all The Melbourne Maps, packing, packaging materials, co-ordination of the campaign and distribution.
Lewis Brownlie – artwork for the wildlife prints
Creffield Digital Printers – paper stock and printing of the Wildlife Art prints
Frames Now – All the labour for framing and co-ordination of collection and contact of supporters.
Be Brilliant Now – campaign advisor, coach and all-round brilliance – Julie-Anne Black
Pozible – provided this amazing platform, promoted the campaign and waived their fees
Everyone Else – who shared the campaign with your friends and cheered us on.
CONTACT US
If you have any questions please don't hesitate to contact me via email melinda@themelbournemap.com.au
Some of you are already on our newsletter email list and receive updates on our map adventures.
I usually send out an email once a month.
If you are interested in hearing from us about The Melbourne Map and 1,000 piece jigsaw plus the new maps of Geelong and The Bellarine Peninsula, please head to our website www.themelbournemap.com.au and subscribe to the newsletter.
Sincere thanks once again for supporting our Bushfire Relief fundraiser.
Kindest regards
Melinda Clarke
Founder/Producer
The Melbourne Map